We ensure you retain your most beautiful smile. Here you will receive preventive, aesthetic as well as acute dental and orthodontic treatment. Welcome to your dental practice in Wiesbaden-Sonnenberg.
Do you have any complaints, wishes or questions? We are by your side with care, competence and lots of experience. Be reassured, we treat our patients as pleasantly and painlessly as possible.
We provide, maintain and replace. Because that's what modern dentistry is all about.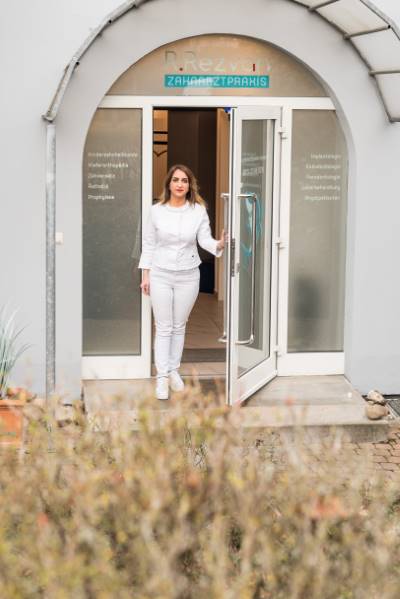 Our range of services shines almost as brightly as a brand new crown.
THIS IS MODERN DENTISTRY AT THE HIGHEST LEVEL:
IMPLANTOLOGY
Dental implants are an important basis: they are inserted into the jawbone and take over the function of tooth roots as a carrier for dental prostheses. Implants are usually made of high-quality titanium and are therefore easy to endure.
SPECIAL PAEDIATRIC DENTISTRY
Practice makes perfect: The foundations for optimal dental health are laid during childhood. For that reason, the treatment of children is individually adapted to their age and development status.
ORTHODONTICS
To put it bluntly: In the case of malocclusion of the jaw and teeth in children and adults, action should be taken not only for aesthetic reasons. Dental prophylaxis is also of great importance.
AESTHETIC DENTISTRY
As versatile as you are: dental aesthetics using veneers, laminates, inlays and onlays as well as tooth whitening (bleaching) using lasers. In addition, invisible braces, such as internal lingual braces and aligners, removable transparent retainers as well as "Hollywood Smile", "Selfie Smile", "Snap-On-Smile".
ROOT CANAL TREATMENT / ENDODONTOLOGY
Get to the root: Professional root canal treatment attempts to heal and preserve a diseased tooth for the patient. For this we use innovative and gentle methods as well as the most modern equipment.
TOOTH REPLACEMENT / PROSTHETICS
As good as new: In our practice you can get any form of replacement for missing natural teeth. There is a wide range of possibilities to choose your best solution from: for example removable or fixed, metal-free and biocompatible.
CARE FOR ANXIOUS PATIENTS
Stay calm: Negative experiences often contribute to dental phobia. With us, you will be gently supported according to a well-founded therapy plan. Talk to us so that we can plan the next steps together.
PROPHYLAXE
Better prevention: For example, through a thorough and holistic mechanical professional cleaning of the teeth. This compensates deficits in daily oral hygiene.
PERIODONTOLOGY
Prevention and therapy: Periodontology is the individual treatment of diseases of the periodontium. This inflammatory disease with unpleasant consequences should be prevented or treated.
TREATMENT BY LASER
Only the best for you: We offer a modern treatment using laser. Advantages are the reduction of bacterial load, less bleeding and better access to difficult anatomical structures.
We are here! Whether preventive care, aftercare or acute treatment:
CALL NOW AND
MAKE AN APPOINTMENT
YOUR APPOINTMENT REQUEST TO THE REZVAN DENTAL PRACTICE
Consultation times without waiting
We would like to avoid unnecessary waiting time for you. That is why we run our practice based on an order system. Appointments are made either personally on site or by telephone.
Of course, we also treat pain and emergency cases without prior appointment!
If possible, we ask you to make an appointment by telephone in advance.
WE ARE HERE FOR YOU - OUR OPENING HOURS:
Tues. and Thurs.

8.30-12.00 und 13.00-19.00
Attention! Requests for treatment or appointments by e-mail cannot be considered.
The Rezvan dental practice is located in the Sonnenberg district of Wiesbaden, close to the Bierstadt district and the Nauroder Straße. The practice entrance is easily accessible from Bayernstraße.
How to get to us by car and parking spaces:
A sufficient number of public parking spaces are available nearby, especially during the day. In addition, there is a parking space for practice patients in Bayernstraße, approximately 20 metres south of the entrance.